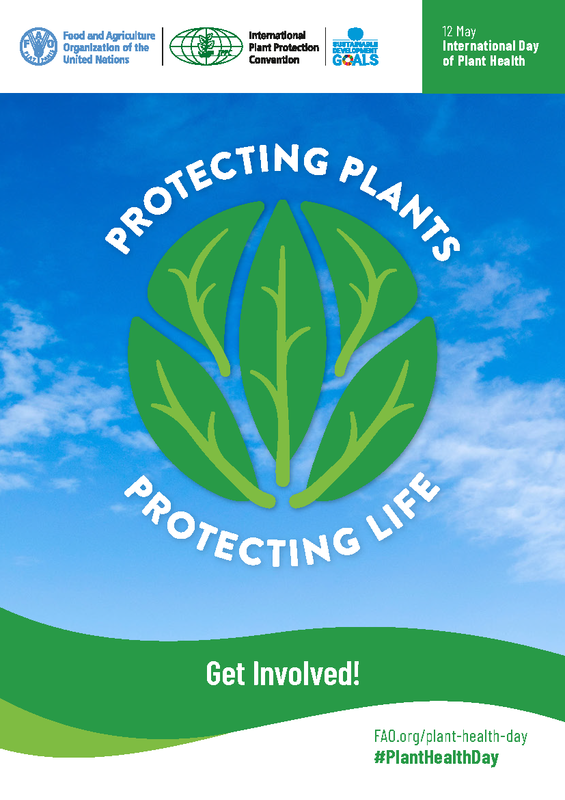 The United Nations designated 12 May the International Day of Plant Health (IDPH) to raise global awareness on how protecting plant health can help end hunger, reduce poverty, protect biodiversity and the environment, and boost economic development. The Day is a key legacy of the International Year of Plant Health 2020.
CIHEAM Bari, with a long experience in the field of plant health in the Mediterranean region, celebrates the IDPH day presenting the initiatives conducted in collaboration with Euphresco for the International Year of Plant Health and some related to national and international research projects.
Research projects
Plant Health Resear ch priorities for the Mediterranean region
Video contest Plant Health TV: Research that helps Plant Health
Project: Advanced information systems and technologies for traceability in phytopathology (MULTITRACE)
Project: Agriculture, Green & Digital (AGREED)
Apps for Xylella fastidiosa
Apps for Phytosanitary surveillance
The Compendium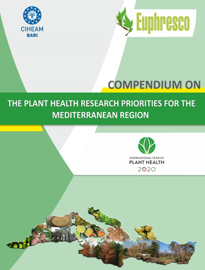 The Compendium on the 'Plant Health Research Priorities for the Mediterranean Region', published in 2020 to celebrate the IYPH, was the first joint Euphresco and CIHEAM Bari initiative launched to improve the coordination of research efforts on plant health in the Mediterranean region and to enhance cooperation of stakeholders within the area. The compendium was prepared on the basis of information and views collected from national experts from the Balkan-Mediterranean, Eastern Mediterranean, Maghreb, and Western Mediterranean sub-regions on the important pests, the research priorities, the important research infrastructure and the research capacity. The supplement 1 is an update of the Compendium and will be published in June 2022. It contains the experts' indications of the research needs for the priority pests listed in the compendium and the details on the discussions undertaken in 2021 with representatives of national organisations involved in phytosanitary research.
Priority pests
Xylella fastidiosa | Citrus tristeza virus | Ca Liberibacter spp. (agents of HLB) | Bursaphelenchus xylophilus | Erwinia amylovora | Plum pox virus | Fusarium oxysporum f. sp albedinis | Rynchophorus ferrugineus | Phyllosticta citricarpa | Ca Liberibacter solanacearum | Drosophila suzukii | Anoplophora chinensis | Spodoptera frugiperda | Tomato brown rugose fruit virus
Video contest Plant Health TV: Research that helps Plant Health
On the occasion of the International Year of Plant Health (IYPH) 2020, the Euphresco network for phytosanitary research coordination and funding and the International Centre for Advanced Mediterranean Agronomic Studies of Bari (CIHEAM Bari) launched a call for a video competition "Plant Health TV: Research that helps Plant Health". Scientists submitted a short video on research activities related to plant health they are conducting.
Jury members (from PBRI-AU, CFIA-CA, IAPSC-CM, APQA-KR, ESA-TN, CIHEAM-Int, EPPO-Int, Euphresco-Int) identified the winner and the four runners-up who were announced at the closing ceremony of the IYPH2020 on July 1 2021.
The winner (gold medal) of the video contest is Ms Shery-Ann Brown,
from the Ministry of Agriculture and Fisheries, Jamaica
The silver medal of the video contest goes to (ex-aequo): Mr Richard Buggs (at left), from the Royal Botanic Garden Kew, United Kingdom and Mr Kiril Sotirovski (at right), from the Ss Cyril and Methodius University in Skopje, Macedonia.
The video winner of the contest
Beating food scarcity: beet armyworm management in Jamaica by Shery-Ann Brown, Jamaica
The video highlights a key pest, the Beet Armyworm Spodoptera exigua that affects the production of several crops in Jamaica. Research studies were conducted to better understand the biology of the pest and a number of strategies employed in its management.These strategies include chemical and biological control methods as well as a pest forecasting system for ealy detection.
MULTITRACE project
Advanced information systems and technologies for traceability in phytopathology
A prototype of a phytosanitary surveillance system has been developed, which is predictive and provides spatial support to decisions to phytosanitary services/agencies. It is based on a robust and intelligent remote and field sensory system capable of integrating and supporting the traditional procedures for the recognition of specific phytosanitary problems with a precise and smart planning of targeted interventions on the territory.
MULTITRACE's prototype intelligent pest surveillance system
It is based on an experimental computer platform, capable of:
automatically receive information from inspection sites through: (i)new systems capable of acquiring and processing images of yellow sticky traps placed in the field; (ii) captaspore; (iii)devices for molecular analysis; (iv) new systems capable of acquiring and processing images of membranes for DTBIA; (v) Ap3est for monitoring data acquisition; (vi) satellite and aerial images available on public databases;
aggregate and standardize all available information
process the acquired information through specially developed geostatistical algorithms that relate the pathogen to environmental factors in the monitored areas in order to outline the most effective control action with the least impact on the environment
provide forecasts and decision support to the bodies in charge of phytosanitary control
 Project: Agriculture, Green & Digital (AGREED)
AGREED is a project of and IoT phytosanitary surveillance system based on the integration of advanced information technologies, geomatics, forecasting, diagnostics and metabolomics, which cooperate to support a sustainable phytosanitary management of fruit and vegetable crops vine, olive, citrus and tomato) in respect of the environment, safety and healthiness of production of southern Italy.
Apps for Xylella fastidiosa designed and developed by CIHEAM Bari
XylAppPuglia is an android application for tablet/smartphone for the monitoring of X. fastidiosa in Puglia (2014) in order to facilitate, optimize and rationalize data acquisition in the field (e.g., geolocation of plants, species, age).
XylApppeople is a surveillance application intended for citizens to facilitate real-time reporting of suspected cases (e.g. photos of plants, geo-referencing).
XylAppNENA is the version implemented for NENA countries (Lebanon, Egypt, Algeria, Tunisia, Palestine, Morocco, Libya).
XylAppEU is the version for the EU territory (H2020 project Xylella Fastidiosa Active Containment Through a multidisciplinary-Oriented Research Strategy - XF-Actors).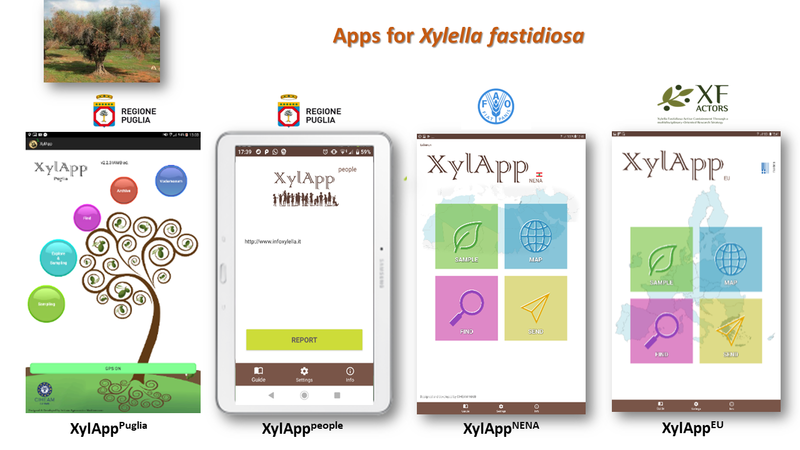 Phytosanitary Apps
Ap3est is an Android/iOS application for tablet/smartphone that facilitates, optimizes and rationalizes data collection, geo-localization and storage related to samples (plant material/insects) during the monitoring of quarantine organisms: pathogens (X. fastidiosa, E. amylovora, Ca Liberibacter spp. the agents of citrus HuangLongBing, Ca Phytoplasma vitis, Monilinia fructicola, Plum pox virus, Citrus tristeza virus), vectors (P. spumarius, Aphids, Scaphoideus titanus) and pests (Bactrocera spp.).
AppPhytoBosnia-Herzegovina è un'applicazione Android per tablet/smartphone per acquisire informazioni nel monitoraggio di parassiti in Bosnia - Erzegovina.