An Innovative Software for the Surveillance of Xylella fastidiosa
XylAppEU is an improved version of XylApp designed and developed by CIHEAM Bari with the aim of facilitating the monitoring of Xylella fastidiosa, optimizing and streamlining the collection, geolocation and archiving of data on plant material and/or insect samples (Santoro et al., 2017).
The App has been developed in the framework of the H2020 project 'Xf-Actors' for use in the whole EU territory harmonizing the work of inspectors by enabling accurate geolocalization and acquisition of data on plants and insect vectors from monitored sites.
XlyAppEU has also been selected in the IPPC/FAO call 'software applications to help plant pest surveillance activities' and posted to the IPP (https://www.ippc.int/en/ ). It has been included in the contributed resources as the it provides useful information for National Plant Protection Organizations that is applicable potentially global (XylAppEU can be found following link or search the resource by putting title of the resource into the search box of the contributed resources list).
A video on XylAppEU has also been presented in the Euphresco-CiHEAM Bari contest on 'Plant Health TV' that has been launched in the framework of the 2020 International Year of Plant Health.
The main functionalities of the App are contained within the four modules presented on the home screen as described hereafter.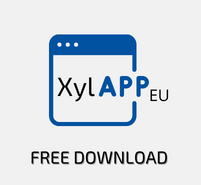 Currently, downloading the app is not possible because it is being updated