On June 8, CIHEAM Bari will host the closing workshop for the advanced specialized course in "Precision Agriculture for the Mediterranean Region", attended by 16 trainees from 12 countries.
The core of the workshop will be the presentation of concept notes, prepared by 4 working groups, on the transition towards the application of precision agriculture in their national context.
A committee, including experts from academia and companies that helped design the course content, will evaluate the output of the 4 working groups through critical analysis of their concept notes.
CIHEAM Bari Director Maurizio Raeli will open the workshop; the meeting will be concluded by Deputy Director Biagio Di Terlizzi, who will outline CIHEAM Bari's future actions in support of the project proposals.
During the workshop, two videos will be shown, prepared by the trainees on different technological applications they could appreciate in the agricultural holdings that already implement precision agriculture.
Finally, all trainees will be awarded an attendance certificate.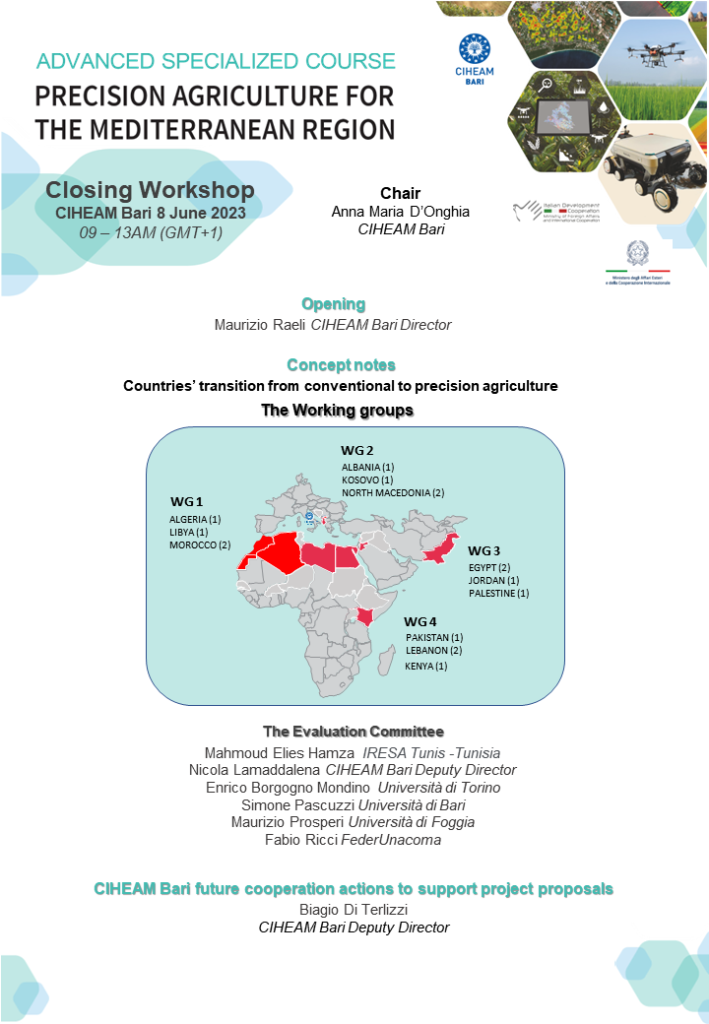 ---

Workshop di chiusura del Corso avanzato di specializzazione in "Agricoltura di precisione per il Bacino mediterraneo"
Il prossimo 8 giugno si terrà al CIHEAM Bari il workshop di chiusura del corso avanzato di specializzazione in "Agricoltura di precisione per il Bacino mediterraneo", al quale hanno preso parte 16 studenti provenienti da 12 Paesi.
Obiettivo del workshop è la presentazione delle concept notes, elaborate da 4 team di partecipanti, sulla transizione verso l'applicazione dell'agricoltura di precisione nei loro contesti nazionali.
Una commissione, composta da esperti del mondo accademico e delle aziende che hanno contribuito ai contenuti del corso, valuterà i risultati dei 4 gruppi di lavoro svolgendo un'analisi critica delle concept notes.
Il workshop sarà inaugurato dal Direttore del CIHEAM Bari, Maurizio Raeli; le conclusioni saranno affidate al Direttore aggiunto, Biagio Di Terlizzi, che illustrerà le azioni future del CIHEAM Bari a sostegno delle proposte progettuali.
Durante il workshop saranno, inoltre, presentati due video realizzati dai corsisti su diverse applicazioni tecnologiche presentate nelle aziende dove l'agricoltura di precisione è già una realtà.
A conclusione della giornata sarà consegnato l'attestato di partecipazione a tutti i corsisti.