On 27 March 2023, the Albanian Minister of Agriculture Frida Krifca, accompanied by CIHEAM Bari's Deputy Director Biagio DI Terlizzi, visited the laboratories of the National Food Agency (AKU) in Durres that have been upgraded with the equipment funded by the Italian Development Cooperation Agency (AICS) under the SAFIAL project implemented by CIHEAM Bari.
Minister Krifca expressed her appreciation to AICS and welcomed CIHEAM Bari's commitment, pointing out that such equipment will help improve safety of food products on the Albanian domestic market and strengthen controls of quarantine diseases. Thanks to this investment, collaboration with CIHEAM Bari and the Italian Cooperation is further expanded to jointly address the sector's development priorities.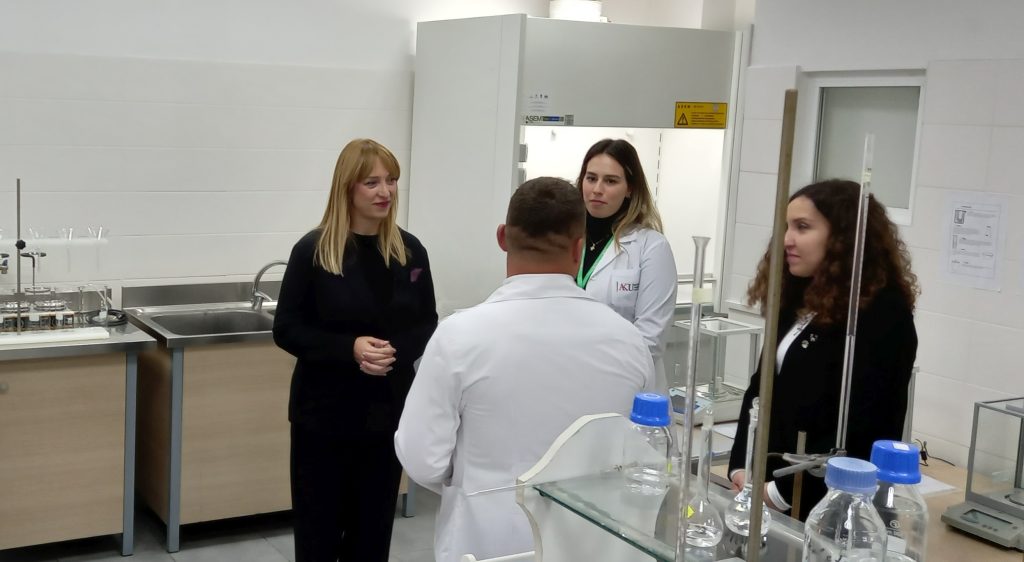 ---

Visita della Ministra dell'Agricoltura albanese Frida Krifca ai laboratori AKU
Il 27 marzo 2023, la Ministra dell'Agricoltura albanese, Frida Krifca, alla presenza del Direttore aggiunto del CIHEAM Bari, Biagio Di Terlizzi, ha visitato i laboratori dell'Agenzia Alimentare Nazionale (AKU) di Durazzo che sono stati riqualificati con le attrezzature finanziate dall'Agenzia Italiana per la Cooperazione allo Sviluppo (AICS), nell'ambito del progetto SAFIAL realizzato dal CIHEAM Bari.
La Ministra Krifca, nel ringraziare l'AICS, ha espresso apprezzamento per l'impegno del CIHEAM Bari, sottolineando che tali attrezzature contribuiranno a migliorare la sicurezza dei prodotti alimentari sul mercato interno albanese e a rafforzare i controlli per le malattie da quarantena. Grazie a questo investimento, si consolida la collaborazione con il CIHEAM Bari e la Cooperazione italiana per affrontare le priorità di sviluppo del settore.