The fourth edition of the Advanced Specialised Course on Sustainable Development of Coastal Communities - SDCC - kicked off this afternoon at CIHEAM Bari's office in Tricase.
This year, 13 officials from the Ministries of Agriculture and Fisheries of nine Mediterranean and sub-Saharan African coastal countries Egypt, Kenya, Lebanon, Libya, Morocco, Palestine, Senegal, Tunisia and Uganda, along with three young graduates from Salento will attend the advanced training programme.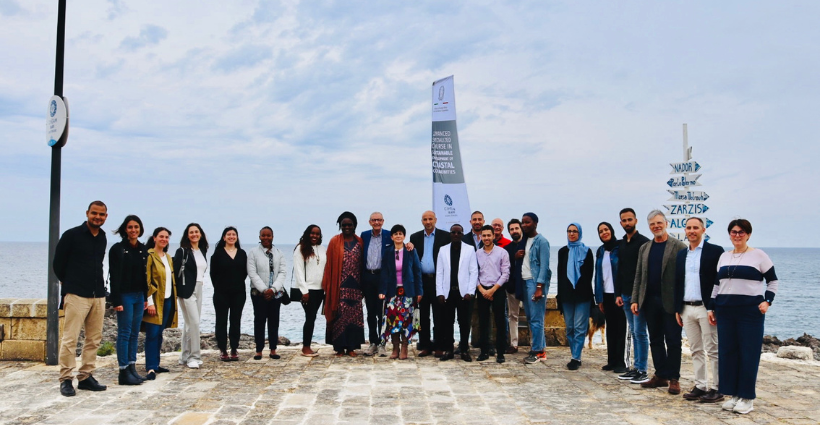 Funded by the Ministry of Foreign Affairs and International Cooperation, the course is organised by CIHEAM Bari in close collaboration with FAO and the General Fisheries Commission for the Mediterranean - GFCM. The aim is to support Blue Transformation by providing an opportunity to participants, coming from different backgrounds, to focus on issues related to the integrated management of coastal areas by jointly seeking shared human- and environment-centred solutions for social and economic growth of their communities.
The training is structured in weekly modules featuring face-to-face lectures, case studies, field trips, meetings with stakeholders and best practices from Puglia and Salento, drawing on the management and sustainable development model known as Port Museum of Tricase.
---

Al via la quarta Edizione del Corso Internazionale per lo Sviluppo Sostenibile delle Comunità Costiere
Ha preso il via questo pomeriggio, nella sede di Tricase del CIHEAM Bari, la quarta edizione del Corso Avanzato Specializzato sullo Sviluppo Sostenibile delle Comunità Costiere – SDCC.
Il programma di alta formazione ospita, quest'anno, 13 funzionari dei Ministeri di Agricoltura e Pesca di 9 Paesi costieri del Mediterraneo e dell'Africa subsahariana Egitto, Kenya, Libano, Libia, Marocco, Palestina, Senegal, Tunisia e Uganda oltre a 3 giovani neolaureati del territorio salentino.
Il percorso, finanziato dal Ministero degli Affari Esteri e della Cooperazione Internazionale, è organizzato dal CIHEAM Bari in stretta collaborazione con l'Organizzazione delle Nazioni Unite per l'Alimentazione e l'Agricoltura (FAO) e la Commissione Generale per la Pesca nel Mediterraneo – GFCM. Il corso intende sostenere la Blue Transformation offrendo la possibilità ai partecipanti, provenienti da contesti differenti, di confrontarsi sulle tematiche relative alla gestione integrata delle aree costiere ricercando insieme soluzioni condivise per una crescita sociale ed economica delle proprie comunità, con una forte attenzione per la componente umana e ambientale.
Il corso è articolato in moduli settimanali con lezioni frontali, casi studio, visite tecniche e sessioni di incontro con gli stakeholders e le best practices del territorio pugliese e salentino, partendo dal modello di gestione e sviluppo sostenibile denominato Porto Museo di Tricase.