CIHEAM Bari's Great Hall, 1st June 2023, 9.30 a.m.
With the digital market applied to the agri-food supply chain steadily growing, global agritech turnover is expected to reach $15 billion, although business up-take remains limited. The main challenges include lack of expertise and difficulties in finding professionals to support business design and digitalisation processes. It is estimated that by 2030 the European labour market will need at least 20 million ICT experts while only 9 million are available today (Eu Commission's DESI 2022 Reports).
To meet the fast-growing demand of IT professionals by digital businesses in Puglia and across the regional cooperation area including Italy, Albania and Montenegro, CIHEAM Bari, Puglia's IT Production District and Dhitech, have collaborated to develop an advanced training course on digital skills, which will be officially concluded on 1st June at 9.30 a.m. at Cosimo Lacirignola Campus.
An innovative training method, which has involved 30 young graduates from different fields (Economics, IT, Agrifood), 19 from Albania, 2 from Montenegro and 9 from Puglia and Molise, seeking to improve digital skills through open innovation design thinking and in close collaboration with17 Italian and 3 Albanian businesses to help the trainees develop innovative projects based on business needs.
The course was run as part of the Food4Health project, funded by the Interreg IPA Cbc Italy-Albania-Montenegro Programme and led by the Albanian Ministry of Agriculture.
This initiative, which is intended to be a model for launching Puglia as an international HUB on digital training applied to the green and blue economy, will also mark the signing of a cooperation agreement between CIHEAM Bari, Puglia's IT Production District and Dhitech, with the aim to consolidate ongoing relations with Albania's and Montenegro's businesses and to include other southern Mediterranean and African countries.
The course's closing ceremony will be attended by Maurizio Raeli, Director of CIHEAM Bari, Carlo Batori, Minister Plenipotentiary of the Directorate General for Development Cooperation - Ministry of Foreign Affairs, Alessandro Delli Noci, Councillor for Economic Development of Puglia Region, Gianna Elisa Berlingerio, Director of the Regional Department of Economic Development, Salvatore Latronico, President of Puglia's IT Production District and Angelo Corallo, President of DhiTech.
Teodoro Miano, Secretary General of CIHEAM, will deliver the concluding remarks while Damiano Petruzzella from CIHEAM Bari will moderate the meeting.
The six project works that have generated innovative solutions for business application will be showcased during the event.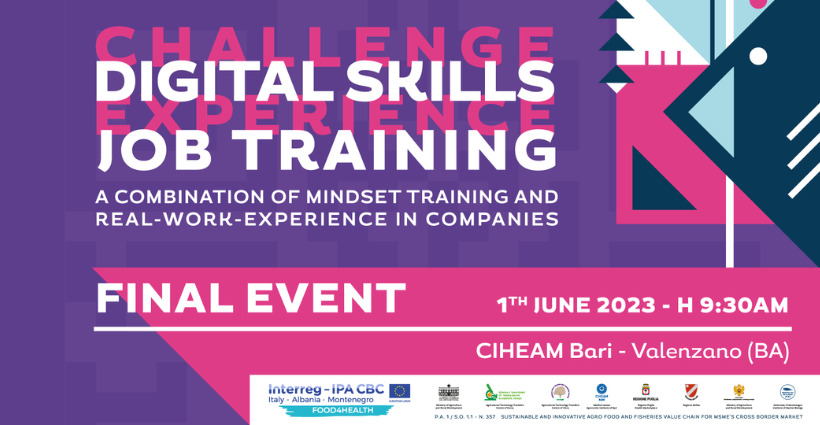 ---

Digital SKILLS: il futuro digitale in azione - Presentazione delle soluzioni innovative sviluppate da 30 giovani
Aula Magna del CIHEAM Bari, 1 giugno 2023, ore 9.30
A fronte della continua crescita del mercato digitale applicato alla filiera agroalimentare, il fatturato mondiale dell'agritech è stimato intorno ai 15 miliardi di dollari, anche se l'adozione da parte delle aziende è ancora limitata. Tra le principali cause vi sono la mancanza di competenze qualificate e la difficoltà nel reperire profili professionali a supporto dei processi di progettazione e digitalizzazione delle imprese. Si stima, infatti, che entro il 2030 il mercato del lavoro europeo avrà bisogno di almeno 20 milioni di specialisti ICT; oggi non ne ha più di 9 milioni (Rapporto DESI 2022 Commissione UE).
Per far fronte alla crescente domanda di professionisti nel settore IT da parte delle aziende digitali pugliesi e dell'area di cooperazione territoriale che comprende Italia, Albania e Montenegro, il CIHEAM Bari, il Distretto Produttivo IT e quello tecnologico Dhitech, hanno collaborato per sviluppare un corso di alta formazione focalizzato sulle abilità digitali (digital skill), le cui conclusioni saranno presentate il prossimo 1 giugno, alle ore 9.30, nel Campus Cosimo Lacirignola.
Un metodo di formazione innovativo, intrapreso da 30 giovani: 19 provenienti dall'Albania, 2 dal Montenegro e 9 da Puglia e Molise, laureati in diverse discipline (Economia, IT, Agrifood), che ha posto l'obiettivo sul miglioramento delle competenze digitali, basandosi sul metodo d'apprendimento dell'open innovation design thinking, realizzato in stretta collaborazione con 17 imprese italiane e 3 albanesi, che hanno collaborato con i corsisti nello sviluppo di progetti innovativi basati sui bisogni aziendali.
Il corso si inserisce nell'ambito del progetto Food4Health, finanziato dal Programma Interreg IPA Cbc Italy–Albania–Montenegro con capofila il Ministero dell'Agricoltura albanese.
L'iniziativa, che intende essere un modello per lanciare la Puglia come HUB internazionale sulla formazione in campo digitale applicato alla green e blue economy, sarà l'occasione per firmare un accordo di collaborazione tra CIHEAM di Bari, Distretto Produttivo IT e Dhitech con l'auspicio non soltanto di poter dare continuità alle relazioni instaurate con il sistema imprenditoriale albanese e montenegrino, ma di poter integrare altri Paesi del sud del Mediterraneo e dell'Africa.
All'evento di chiusura del corso parteciperanno Maurizio Raeli, direttore del CIHEAM Bari, Carlo Batori, ministro plenipotenziario della Direzione generale per la cooperazione allo sviluppo del Ministero degli esteri, Alessandro Delli Noci, assessore allo sviluppo economico della Regione Puglia, Gianna Elisa Berlingerio, direttora del dipartimento regionale dello Sviluppo economico, Salvatore Latronico, presidente del Distretto Produttivo dell'Informatica Pugliese e Angelo Corallo, presidente del DhiTech.
Le conclusioni saranno affidate a Teodoro Miano, segretario generale del CIHEAM.
L'incontro sarà moderato da Damiano Petruzzella del CIHEAM Bari.
Durante il meeting saranno presentati i sei lavori che hanno generato altrettanti progetti di soluzioni innovative da applicare alle aziende.