As part of 'Sustainable Regeneration of Agriculture in Areas Affected by Xylella fastidiosa' Research & Development Project, CIHEAM Bari will be hosting an event on innovation for sustainable regeneration of agriculture in areas affected by Xylella fastidiosa.
The meeting will take place on 11 July 2023, from 6 p.m. to 8.30 p.m., in the impressive setting of Masseria Amastuola in Crispiano (Taranto province).
The event format will be a World Café; local businesses and experts will be involved to explore innovative approaches, products and processes developed in the agrifood sector. During the meeting, participants will have the opportunity to share problems and needs facing the Ionian Salento area and to figure out innovative solutions for coping with Xylella fastidiosa phytosanitary emergency.
During the event, two forthcoming project activities under Task 5.3, coordinated by CIHEAM Bari, will also be presented. First, a training course designed to qualify Innovation Coaches, i.e., professionals who are expected to play a major role in disseminating the culture of innovation across the agrifood sector and in supporting businesses towards the adoption of innovative solutions. Second, the Innovation Labs intended for 5 companies in Salento to develop innovative solutions jointly with start-ups and spinoffs. Two expressions of interest will then be presented to select the course trainees and the companies.
The meeting will end with an innovation happy hour, during which participants will be able to further exchange and strengthen connections, thus creating a collaboration and support network to take up Xylella fastidiosa related challenges.
The event will be a major opportunity to promote innovation in the agrifood sector, showcasing new solutions developed by Puglia's research institutions and business community. CIHEAM Bari is committed to further supporting the sustainable regeneration of agriculture and the control of Xylella fastidiosa through innovative projects and fruitful collaborations. The 'Sustainable Regeneration of Agriculture in the Areas Affected by Xylella fastidiosa' R&D Project, coordinated by Puglia's Department of Agriculture, Rural Development and the Economy (DAJS), is implemented by the University of Salento, the University of Bari Aldo Moro, the Politecnico di Bari, the CNR Institute for Sustainable Plant Protection, CIHEAM Bari and the Centre for Climate Change Studies.
Please register here to attend the event:
---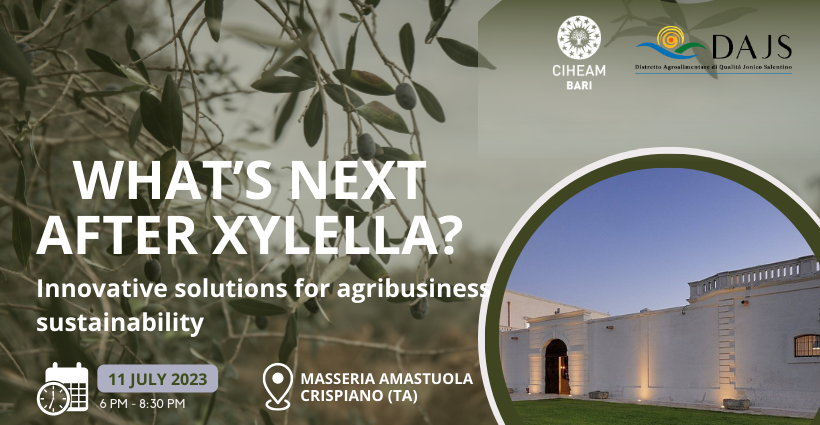 Cosa fare dopo la Xylella? Soluzioni innovative per la sostenibilità delle imprese agricole
Nell'ambito del Progetto di Ricerca & Sviluppo, Rigenerazione Sostenibile dell'agricoltura nei territori colpiti da Xylella fastidiosa, il CIHEAM Bari organizza un evento dedicato all'innovazione per la rigenerazione sostenibile dell'agricoltura nei territori colpiti da Xylella fastidiosa.
L'incontro si svolgerà il giorno 11 luglio 2023, dalle 18.00 alle 20.30, nella suggestiva cornice della Masseria Amastuola situata a Crispiano (provincia di Taranto).
La struttura dell'evento sarà quella del World Cafè e avrà l'obiettivo di coinvolgere attivamente le imprese e gli esperti del territorio nella scoperta di approcci, prodotti e processi innovativi sviluppati nel settore agroalimentare. Durante l'incontro, i partecipanti avranno l'opportunità di condividere i problemi e i bisogni del territorio jonico-salentino, nonché di immaginare soluzioni innovative capaci di fronteggiare l'emergenza fitosanitaria causata dalla Xylella fastidiosa.
Inoltre, durante l'evento saranno presentate le successive due attività previste dal Task 5.3 del Progetto, coordinate dal CIHEAM Bari. La prima riguarda un percorso di formazione finalizzato alla creazione degli Innovation Coach, figure professionali che saranno fondamentali per diffondere la cultura dell'innovazione nel settore agroalimentare e supportare le imprese nel processo di adozione di soluzioni innovative.
La seconda attività prevede lo sviluppo dei Laboratori di Innovazione destinati a 5 imprese del territorio salentino per lo sviluppo di soluzioni innovative in collaborazione con startup e spinoff. Verranno quindi presentate due manifestazioni d'interesse per la selezione dei partecipanti al corso e per le imprese.
L'incontro si concluderà con un aperitivo dell'innovazione, durante il quale i partecipanti avranno l'opportunità di continuare gli scambi e le relazioni intraprese durante l'evento, creando così un network di collaborazione e supporto per affrontare le sfide connesse alla Xylella fastidiosa.
L'evento rappresenta un'importante occasione per promuovere l'innovazione nel settore agroalimentare, mettendo in luce le soluzioni sviluppate dalle istituzioni di ricerca e dal mondo imprenditoriale pugliese. Il CIHEAM Bari si impegna a continuare il proprio sostegno alla rigenerazione sostenibile dell'agricoltura e alla lotta contro la Xylella fastidiosa, attraverso l'implementazione di progetti innovativi e la promozione di collaborazioni fruttuose.
Il Progetto di Ricerca & Sviluppo, Rigenerazione Sostenibile dell'agricoltura nei territori colpiti da Xylella fastidiosa, coordinato dal Dipartimento per l'Agricoltura, lo Sviluppo Rurale e l'Economia della Puglia (DAJS), è realizzato da Università del Salento, Università degli Studi di Bari Aldo Moro, Politecnico di Bari, Istituto per la Protezione Sostenibile delle Piante del CNR, CIHEAM Bari e Centro di Studi per i Cambiamenti Climatici.
Per iscriversi all'evento: