From 11 to 14 June 2023, the CIHEAM's Italian Institute (CIHEAM Bari) hosted a Nigerien delegation led by the First Lady of Niger, Hadidja Mabrouck Bazoum, the Ambassador of the Republic of Niger to Italy, Fatimata Cheiffou, and the Director General of Rural Engineering at the Ministry of Agriculture of Niger, Hadiza Namaka. The meeting was also attended by Maria Nicoletta Gaida, President of the Ara Pacis Foundation - Initiatives for Peace.
The delegation from Niger had the opportunity to discuss various issues including natural resource management, gender policies, improvement of agricultural production, local development and training of the local executives of the Ministry of Agriculture with
CIHEAM Bari's Director, Maurizio Raeli, Deputy Director Biagio Di Terlizzi, and the researchers, consultants and experts who took part in the two-day event.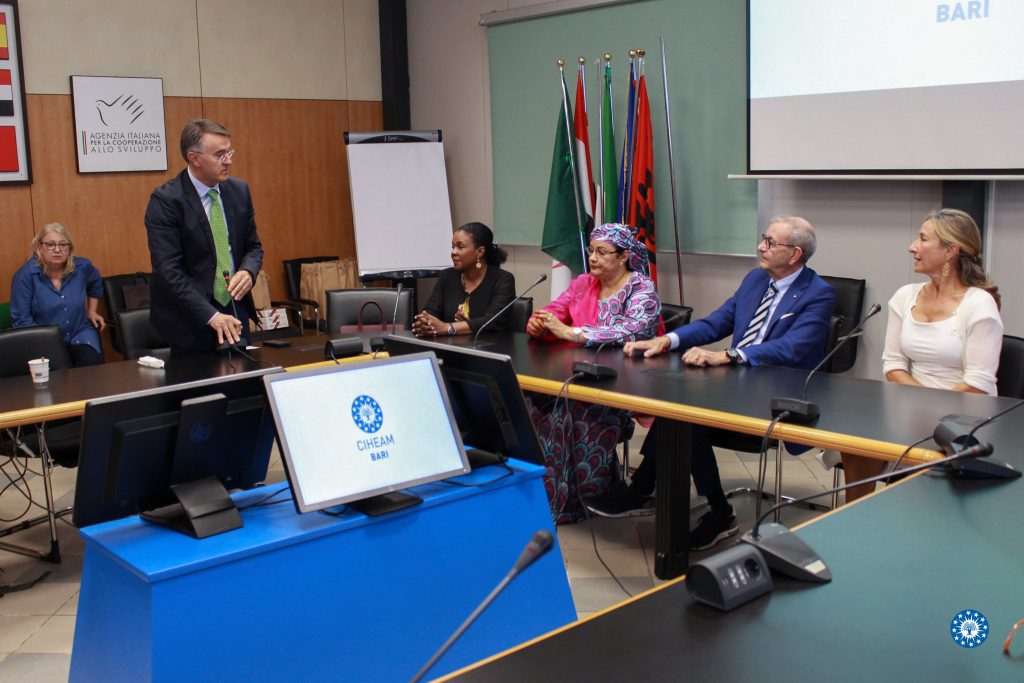 ---

Delegazione nigerina in visita al CIHEAM Bari
Dall'11 al 14 giugno 2023 il CIHEAM Bari ha ospitato una delegazione nigerina composta dalla Premier Dame, Hadidja Mabrouck ép Bazoum, dall'ambasciatrice della Repubblica del Niger in Italia, Fatimata Cheiffou, e dalla direttrice generale dell'Ingegneria Rurale presso il Ministero dell'Agricoltura del Niger, Hadiza Namaka. All'incontro ha partecipato anche la Presidente della Fondazione Ara Pacis - Initiatives for Peace, Maria Nicoletta Gaida.
Gestione delle risorse naturali, politiche di genere, miglioramento della produzione agricola, sviluppo locale e formazione dei quadri del locale Ministero dell'Agricoltura sono stati i focus su cui la delegazione nigerina ha avuto modo di confrontarsi con
il direttore del CIHEAM Bari, Maurizio Raeli, con il direttore aggiunto, Biagio Di Terlizzi, i ricercatori, i consulenti e gli esperti presenti agli incontri tenutisi nella sede italiana del CIHEAM di Bari.