The Director of CIHEAM Bari, Maurizio Raeli, and the Director of Skopje Institute of Agriculture, "Ss. Cyril and Methodius," Viktor Gjamovski, signed today a Memorandum of Understanding.
This agreement aims to establish and expand collaboration on applied research, training, education and international cooperation activities.
Drawing on their institutional missions, priority objectives and expertise, the two institutions intend to mainly focus on the following topics: soil and water management, integrated pest management of fruit and vegetable crops, organic farming, sustainable agrosystems, innovation in agribusiness and youth entrepreneurship, rural development of territories and economic management of precision agriculture.
Efforts will also be directed at seeking new funding opportunities for partnership initiatives in complementary areas of interest, which  will  be implemented jointly as part of international development cooperation actions and applied research activities.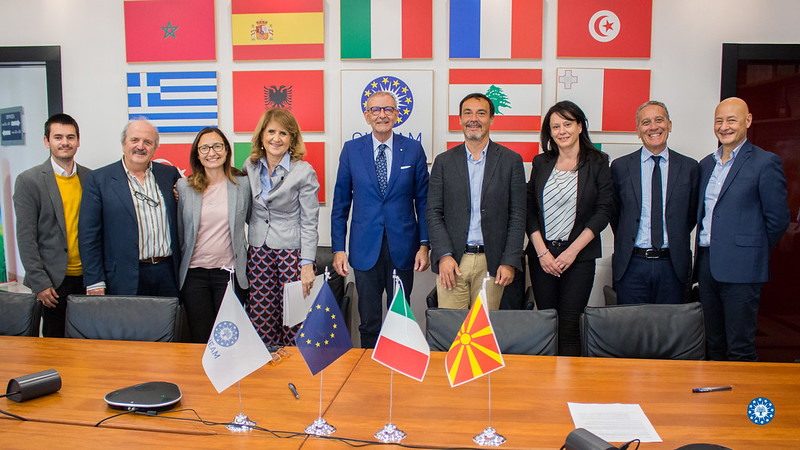 ---

Memorandum of Understanding tra CIHEAM Bari e Istituto di Agricoltura di Skopje
È stato firmato quest'oggi un Memorandum of Understanding tra il CIHEAM Bari e l'Istituto di Agricoltura di Skopje, "Ss. Cyril and Methodius University" alla presenza del direttore della sede italiana del CIHEAM, Maurizio Raeli, e del direttore dell'Istituto di Skopje, Viktor Gjamovski.
L'accordo tra le due istituzioni mira ad intraprendere e sviluppare un rapporto di collaborazione, che trova il suo cardine nelle attività di ricerca applicata, formazione, istruzione e cooperazione internazionale.
Tenendo conto della missione istituzionale, degli obiettivi prioritari e delle competenze di entrambe le istituzioni, la loro collaborazione si esplicherà soprattutto su aree tematiche quali: la gestione del suolo e dell'acqua, la gestione integrata dei parassiti delle colture ortofrutticole, la coltivazione biologica, gli agrosistemi sostenibili, l'innovazione nel settore agroalimentare e dell'imprenditorialità giovanile, lo sviluppo rurale dei territori e la gestione economica dell'agricoltura di precisione.
La collaborazione è finalizzata anche alla ricerca di nuove opportunità di finanziamento per iniziative di collaborazione su aree di competenza complementari delle due istituzioni, attuate congiuntamente nel quadro delle azioni di cooperazione internazionale allo sviluppo e di attività di ricerca applicate.