Dalla ristorazione collettiva passano le scelte alimentari di milioni di italiani, contando le mense scolastiche, ospedaliere e aziendali, luoghi nodali di educazione alimentare, in cui poter fare cultura e formazione sulla corretta alimentazione rappresentata dalla Dieta mediterranea.
La ristorazione collettiva opera lungo l'intera filiera agroalimentare e può condizionarla in maniera significativa, impattando significativamente tutte le dimensioni della sostenibilità alimentare, assumendo un ruolo preponderante con la sempre maggiore tendenza a mangiare fuori casa per motivi di lavoro e per piacere.
Dando seguito al side-event "La ristorazione collettiva come strumento culturale per promuovere la dieta Mediterranea: Gusto, qualità, cucina, territori, innovazione, tracciabilità, spreco alimentare, valore del cibo", tenutosi nell'ambito della 3° Conferenza Mondiale sulla Rivitalizzazione della Dieta Mediterranea, organizzato dal CIHEAM Bari, nel Settembre 2022, venerdì 24 febbraio si svolgerà a Palazzo Ferrajoli (Roma) il primo convegno che si prefigge di attivare le necessarie sinergie per promuovere la ristorazione collettiva da semplice erogatore di servizi a strumento culturale di educazione e formazione, promuovendo congiuntamente i molteplici benefici sostenibili della dieta Mediterranea, attraverso un programma di incontri istituzionali e scientifici, progetti di ricerca, formazione ed educazione, eventi di promozione e campagne di comunicazione.
Il Convegno, intitolato "LA RISTORAZIONE COLLETTIVA COME STRUMENTO CULTURALE PER PROMUOVERE LA DIETA MEDITERRANEA" vedrà la partecipazione di stakeholders, pubblici e privati, riconosciuti per il loro impegno ed esperienza a livello nazionale e regionale. Intende essere il primo di una serie di momenti di dialogo e confronto tra esperti, altamente qualificati e rappresentativi delle realtà italiane operative nei settori della ristorazione collettiva, della dieta Mediterranea e del Made in Italy che collaborando insieme potrebbero diventare un asset strategico vincente per il Paese su cui puntare e fare investimenti.
Al convegno, all'interno del quale è previsto l'intervento istituzionale da parte del Ministro dell'Agricoltura, Sovranità Alimentare e Foreste, Francesco Lollobrigida, parteciperanno, tra gli altri, il direttore del CIHEAM Bari, Maurizio Raeli e l'Amministratore principale del CIHEAM Bari, Roberto Capone.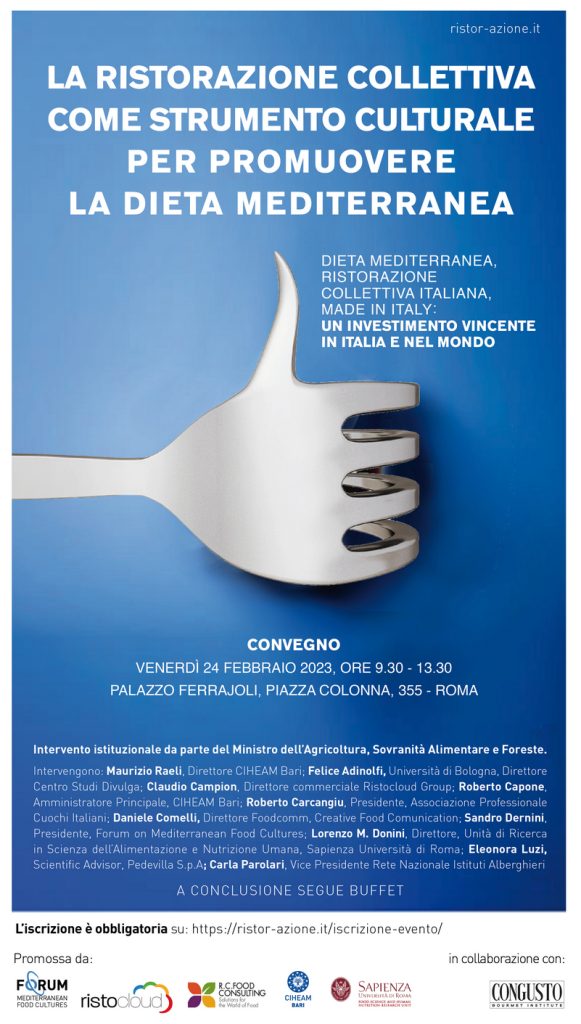 ---

Collective catering plays a key role in food choices of millions of Italians, including school, hospital and business canteens, which take centre stage in food education, to share knowledge and learning on a healthy eating pattern such as the Mediterranean diet
Collective catering services are connected with the whole food supply chain and can have a significant impact on any dimension of food sustainability; they are becoming increasingly popular with the growing trend to eat out for work and leisure.
As a follow-up to the side-event 'Collective catering as a cultural tool to promote the Mediterranean diet: Taste, quality, cuisine, territories, innovation, traceability, food waste, food value', held during the 3rd World Conference on the Revitalisation of the Mediterranean Diet, hosted by CIHEAM Bari, in September 2022, a conference will be held at Palazzo Ferrajoli (Rome) on Friday 24 February. The aim is to create the synergies required to turn collective catering from a simple service provider into a new cultural tool for education and training. This will be the first of a series of initiatives including institutional and scientific meetings, research, training and education projects, promotional events and communication campaigns to promote the multiple sustainable benefits of the Mediterranean diet.
The Conference, titled "COLLECTIVE CATERING AS A CULTURAL TOOL TO PROMOTE THE MEDITERRANEAN DIET" will bring together public and private stakeholders, who are acknowledged for their commitment and experience at national and regional level. This will be the starting point of a continuing dialogue and exchange between highly qualified experts in the field of food service, the Mediterranean diet and 'Made in Italy' industry.  Working together, they could generate a valuable and strategic wealth for the country to focus on and invest in.
The Italian Minister of Agriculture, Food Sovereignty and Forestry, Francesco Lollobrigida will take part in the conference for an opening address. CIHEAM Bari's director Maurizio Raeli, and CIHEAM Bari's principal administrator Roberto Capone will also attend the meeting.