Albania, as a partner country, aims to improve the quality of its Higher Education system to be able to respond more effectively to the needs and demands of the labour market by strengthening technology transfer and cooperation with businesses.
The four Albanian universities, in addition to their research and teaching activities, have joined the Third Mission development process, which will bring them up to the standards of European universities.
In particular, dedicated services have been set up to create spin-offs and start-ups, to recognise and enhance patenting and to strengthen cooperation between university and research organisations and private companies.
The project has made it possible to train TTOs' university staff (more than 60 people trained) and to test the services by involving more than 100 students and more than 25 companies.
They are the most concrete response to promote enhancement and resilience of young talent through a new and qualified university system in Albania. The strategic value of the project is also demonstrated by the numerous collaborations established between universities/research institutes, the involvement of other universities and companies in the agribusiness and digital sectors, and the participation of young aspiring entrepreneurs. This extensive collaboration has led to the creation of a network involving seven universities, CIHEAM Bari, and two digital business districts with the aim of sharing future development activities to strengthen international cooperation.
The meeting will be held on 27 June 2023 in Tirana, Hotel Mondial, from 10:00 am to 1:00 pm, and it will be attended by Her Excellency Frida Krifca, Minister of Agriculture and Rural Development, Her Excellency Evis Kushi, Minister of Education, Sports and Youth of Albania, His Excellency Fabrizio Bucci, Ambassador of Italy to Albania, TbC Stefania Vizzaccaro, Representative of the Italian Agency for Development Cooperation in the Western Balkans, (TbC) - Ada Ramaj, National Erasmus Office.
The TTO4FOOD project results and future prospects, will be presented by Maria De Angelis and Annamaria Demarinis Loiotile (UNIBA) and Damiano PETRUZZELLA - CIHEAM Bari
A round table will follow with the Rectors of the Universities of Albania, Cyprus and Italy and the representatives of the two digital business districts, who will finally sign a cooperation agreement.
The panelists will include Stefano Bronzini, Rector of the University of Bari 'Aldo Moro', Fatbardh Sallaku, Rector of the Agricultural University of Tirana, Roland Zisi, Rector of the University of 'Ismail Qemali' Vlorë, Kseanela Sotirofski, Rector of the University of 'Aleksander Moisiu' Durrës, Dhimitri Bello, Rector of the University 'Fan S. Noli' Korça, Artan Hoxha, Rector of the University of Tirana, a Representative from Cyprus 'University of Technology', Andrea Maliqari, Polytechnic University of Tirana, Salvatore Latronico, 'Puglia's IT Productive District', Angelo Corallo, District of High Technology (Dhitech).
Teodoro Miano, Secretary General of CIHEAM will moderate the discussion and deliver the conclusions.
The TTO4FOOD project is partnered by the University of Bari 'Aldo Moro', the University of Technology (CUT) Cyprus, CIHEAM Bari, the Agricultural University of Tirana, the University 'Aleksandër Moisiu' of Durrës, the University 'Ismail Qemali' of Vlorë, the University 'Fan S. Noli' of Korça and Sinagri srl (university spin-off).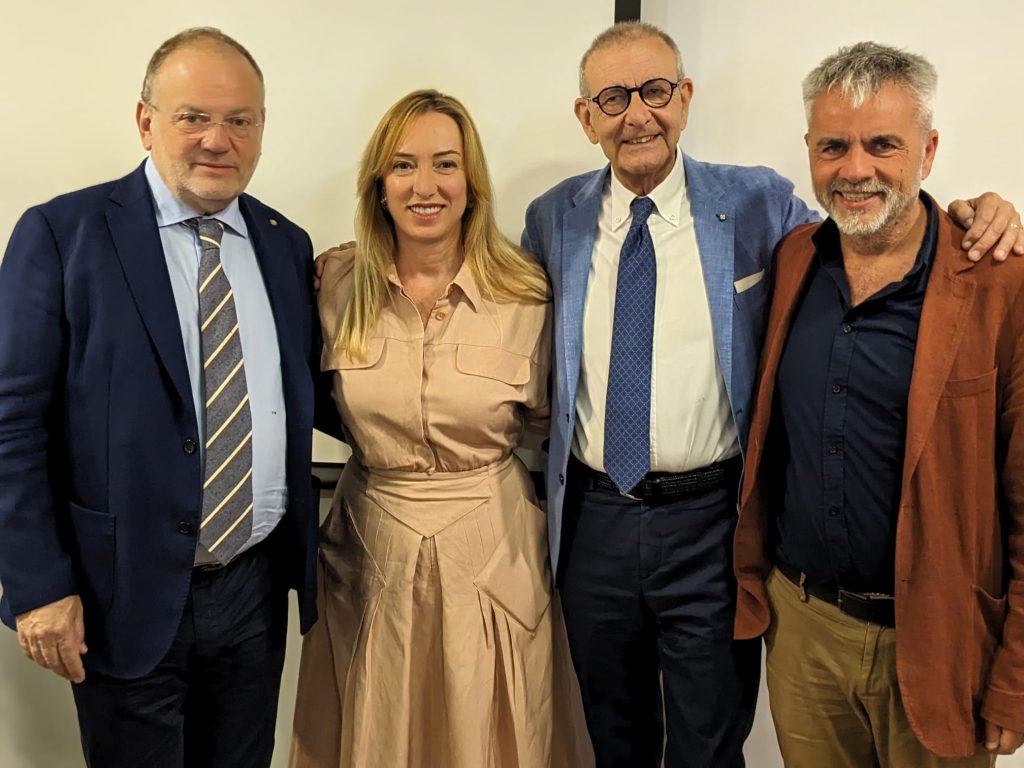 ---

Conferenza internazionale: Dal rafforzamento degli Uffici di Trasferimento Tecnologico, un nuovo modello di cooperazione internazionale pubblico-privato per l'empowerment dei giovani e la competitività delle imprese
Il progetto di rafforzamento degli Uffici di Trasferimento Tecnologico (TT4FOOD-TTO4FUTURE), il cui evento finale si terrà il prossimo il 27 giugno nell'Hotel Mondial a Tirana, dalle ore 10.00 alle 13.00, ha definito un innovativo modello di cooperazione internazionale pubblico-privato volto a potenziare i giovani e migliorare la competitività delle imprese.
L'Albania, in qualità di Paese partner, si sta impegnando per migliorare la qualità del suo sistema di istruzione superiore, al fine di rispondere in modo più efficace alle esigenze e alle richieste del mercato del lavoro. Nello specifico, le 4 università albanesi coinvolte nel progetto, insieme con il Ciheam Bari e Università degli studi di Bari, hanno co-progettato e implementato i servizi di trasferimento tecnologico relativi a: proprietà intellettuale; Cooperazione ricerca-impresa e creazione di start up e Spin off. Preliminarmente è stato formato lo staff delle università albanesi incaricato alla gestione dei TTO.
Infatti, sono stati formati oltre 60 membri del personale universitario degli Uffici di Trasferimento Tecnologico e testati i servizi attraverso il coinvolgimento di più di 100 studenti e oltre 25 aziende. Questi sforzi stanno contribuendo a promuovere la valorizzazione e la resilienza dei giovani talenti, attraverso un sistema universitario innovativo e qualificato in Albania.
Il valore strategico del progetto è dimostrato dalle numerose collaborazioni instaurate tra università, istituti di ricerca, aziende del settore agroalimentare e digitale e giovani aspiranti imprenditori. Questa ampia collaborazione ha portato alla creazione di una rete tra 7 università, il CIHEAM Bari, due distretti imprenditoriali digitali, con l'obiettivo di condividere le future attività di sviluppo per rafforzare ulteriormente la cooperazione internazionale.
L'incontro del 27 giugno 2023 a Tirana, vedrà la partecipazione di illustri ospiti, tra cui, per l'Albania, Sua Eccellenza Frida Krifca, ministro dell'Agricoltura e dello Sviluppo Rurale, nonché presidente del CIHEAM, Sua Eccellenza Evis Kushi, ministro dell'Educazione, dello Sport e della Gioventù, Ada Ramaj dell'Ufficio Nazionale Erasmus; Sua Eccellenza Fabrizio Bucci, ambasciatore d'Italia in Albania e Stefania Vizzaccaro, rappresentante dell'Agenzia Italiana per la Cooperazione allo Sviluppo nei Balcani Occidentali.
Durante l'evento saranno presentati i risultati del progetto TTO4FOOD e saranno discusse le prospettive future. Maria De Angelis, Annamaria Demarinis Loiotile (UNIBA) e Damiano Petruzzella (CIHEAM Bari) saranno i relatori principali.
La conferenza sarà seguita da una tavola rotonda che riunirà i rettori delle Università di Albania, Cipro e Italia, insieme ai rappresentanti dei due distretti di imprese digitali. Al termine dell'evento, i partecipanti firmeranno un accordo di collaborazione. Tra loro vi saranno Stefano Bronzini, rettore dell'Università degli Studi di Bari Aldo Moro, Roland Zisi, Kseanela Sotirofski, Dhimitri Bello, Artan Hoxha, rettori delle Università albanesi, Fatbardh Sallaku, rappresentante dell'Università Tecnologica di Cipro, Andrea Maliqari, Politecnico di Tirana, Salvatore Latronico, Distretto Produttivo IT e Angelo Corallo, Distretto di Alta Tecnologia (Dhitech).
La conferenza sarà moderata e conclusa da Teodoro Miano, Segretario Generale del CIHEAM.
I partner del progetto TTO4FOOD includono l'Università Aldo Moro di Bari, l'Università di Tecnologia (CUT) di Cipro, il CIHEAM di Bari, l'Università Agraria di Tirana, l'Università Aleksandër Moisiu di Durazzo, l'Università Ismail Qemali di Vlorë, l'Università Fan S. Noli di Korça e Sinagri srl (spin-off universitario).