From 19 to 22 September, a delegation of managers and officials from the Egyptian Water Service took part in the 'Study Tour on Water Resources Management in Urban Contexts'. The training programme was designed by CIHEAM Bari, the Italian Institute of the International Centre for Advanced Mediterranean Agronomic Studies and delivered in collaboration with Acquedotto Pugliese and the Department of Civil, Environmental, Land, Building and Chemical Engineering (DICATECh) of Polytechnic University of Bari. 
The main focus of the study tour was the transfer of circular economy best practices, in particular the reuse of treated wastewater in agriculture. Acquedotto Pugliese shared its experience in the field of treated wastewater management, while CIHEAM Bari focused on the transition from wastewater treatment to reuse in agriculture. "The reuse of treated wastewater," said Nicola Lamaddalena, deputy director at CIHEAM Bari, "is strategic, especially in southern Mediterranean countries such as Egypt. Of utmost importance for wastewater reuse is the adoption of suitable irrigation methods calibrated for treated wastewater, excluding sprinkler or surface irrigation, and including micro-irrigation methods, such as drip irrigation.
The training programme is part of the 'Water Knowledge project' funded by the Italian Cooperation and implemented by CIHEAM Bari in collaboration with, among other institutional stakeholders, the Egyptian Ministry of Water Resources and Irrigation.
This project is an important step towards the sustainable management of water resources and the use of more environmentally friendly agricultural practices. It will thus help build a more resilient and ecologically sound future in the areas involved.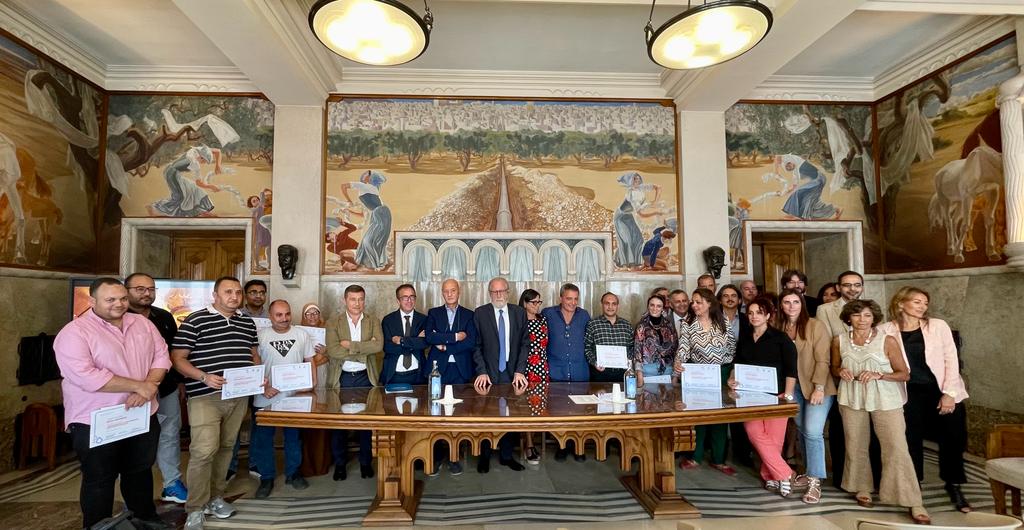 Delegazione egiziana in Puglia per lo Study Tour sulla Gestione delle Acque Reflue per l'Agricoltura
Dal 19 al 22 settembre, una delegazione di manager e funzionari del servizio idrico egiziano ha partecipato allo "Study Tour sulla Gestione delle Risorse Idriche in contesti Urbani". Il percorso di formazione, che è stato elaborato dalla sede italiana del Centro Internazionale di Alti Studi Agronomici Mediterranei (CIHEAM Bari), è stato realizzato in collaborazione con Acquedotto Pugliese e Dipartimento di Ingegneria Civile, Ambientale, del Territorio, Edile e di Chimica (DICATECh) del Politecnico di Bari.
Il focus principale dello study tour ha riguardato il trasferimento delle migliori pratiche di economia circolare, con particolare attenzione al riuso di acque depurate nell'agricoltura. Acquedotto Pugliese si è dedicato soprattutto a condividere le proprie esperienze nella gestione delle acque depurate, mentre CIHEAM Bari si è concentrato sul passaggio dal trattamento delle acque al loro utilizzo in agricoltura. «Il riuso delle acque reflue trattate –ha sottolineato Nicola Lamaddalena, direttore aggiunto del CIHEAM Bari- è strategico in particolare nei Paesi della sponda sud del Mediterraneo, come l'Egitto. Il nostro focus sull'utilizzo dei giusti sistemi irrigui tarati sulle acque depurate, evitando quelli a pioggia o di tipo superficiale e privilegiando metodi a micro-portata di erogazione, tipo l'irrigazione a goccia, sono molto adeguati al riutilizzo delle acque reflue».
Il percorso di formazione si inserisce nel "Water Knowledge Egyptian-Italian Water Training Programme", progetto finanziato dalla Cooperazione italiana e realizzato dal CIHEAM Bari in accordo con, tra gli altri, il Ministero egiziano delle Risorse Idriche e dell'Irrigazione.
Questo progetto rappresenta un passo importante verso la gestione sostenibile delle risorse idriche e l'adozione di pratiche agricole più eco-friendly, contribuendo così a un futuro più resiliente e responsabile per entrambe le Regioni coinvolte.