On March 20 2023, the OliveCulture ('Holistic and Multi-professional Mechanism for a Pakistani Olive Oil Value Chain') team, along with CIHEAM Bari's experts Costantino Parma and Giuseppe Cavallo, visited the olive nurseries at the Agricultural Research Institute in Quetta.
Over 40 operators, including technicians and farmers participated in the visit during which Giuseppe Cavallo emphasised the need to adopt modern nursery-raising practices, use quality soil media and planting material, and apply proper grafting techniques. The assessment activity was combined with practical training on modern nursery management.
The OliveCulture team also visited the Baluchistan Agricultural Research and Development Centre (BARDAC) to observe and assess the status of the nursery planting materials grown in advanced greenhouses and tunnels.
On March 21 2023, the OliveCulture team travelled to Abdul Jabbar farm in Sarki Jungle Loralai district, a remote area well-suited for training in olive tree nursery and Standard Operating Procedures (SOPs), focusing on promotion, certification and standardisation. The farm grows more than 3500 plants of different varieties, namely Arbequina, Arbosona, Coratina, Frantoio, Genlik, and Leccino, and covers an area of 60 acres.
Moreover, a training session on SOPs in nursery management was organised in Loralai with over 85 participants, including technicians, farmers, and representatives of the Baluchistan Ruler Support Program (BRSP). Giuseppe Cavallo gave a practical demonstration of modern SOPs for nursery management, highlighting the need for a standardisation and certification scheme.
All the farmers, technicians and operators were awarded an attendance certificate and received brochures in English and Urdu illustrating the main features of the olive's cultivation and Good Agricultural Practices (GAPs). At the end of this two-day event, Costantino Parma and Giuseppe Cavallo planted some young olive plants to deliver a positive message to promote this crop.
Through these training activities, the OliveCulture project aims to reach Pakistan's remote and high-risk areas to promote modern nursery practices and standardisation and certification of the olive crop. The theoretical and practical sessions held by CIHEAM Bari's experts attracted wide participation and interest from local farmers and technicians.  Raising awareness on the use of Good Agricultural Practices for the olive tree will help improve the productivity and quality of the crop across the country.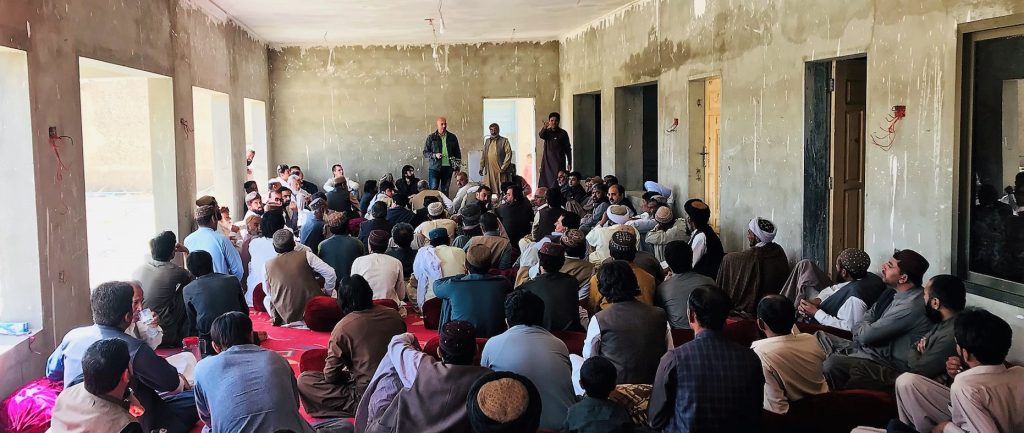 ---

Ampia partecipazione e grande interesse degli operatori del settore olivicolo in Pakistan per la formazione SOP e GAP del progetto OliveCulture
Il 20 marzo 2023, il team del progetto OliveCulture ("Holistic and Multi-professional Mechanism for a Pakistani Olive Oil Value Chain" ), accompagnato dagli  esperti Costantino Parma  e  Giuseppe Cavallo del CIHEAM Bari, ha visitato i vivai olivicoli dell'Istituto di Ricerca Agricola di Quetta.
Oltre 40 operatori, tra tecnici e agricoltori, hanno partecipato alla visita durante la quale Giuseppe Cavallo ha sottolineato la necessità di adottare pratiche moderne di conduzione, di utilizzare terricci e materiale vegetativo di qualità e di impiegare tecniche d'innesto adeguate. All'attività di valutazione è stata associata una formazione pratica sulla gestione moderna dei vivai.
Il team di OliveCulture, ha visitato anche il Centro di Ricerca e Sviluppo Agricolo del Belucistan (BARDAC) per verificare e valutare lo stato dei materiali vivaistici nelle serre e nei tunnel di ultima generazione.
Il 21 marzo, il team di OliveCulture si è poi recato nell'azienda agricola "Abdul Jabbar", nel distretto di Sarki Jungle Loralai, un'area remota e idonea per la formazione sul vivaismo olivicolo e sulle Procedure Operative Standard (SOP), con particolare riferimento alla promozione, alla certificazione e alla standardizzazione. L'azienda dispone di un patrimonio di oltre 3500 piante di diverse varietà, tra le quali Arbequina, Arbosona, Coratina, Frantoio, Genlik e Leccino, e si estende su una superficie di circa 25 ettari.
Inoltre, a Loralai è stata organizzata una sessione di formazione dedicata alle SOP per la gestione dei vivai, alla quale hanno partecipato oltre 85 operatori, tra cui tecnici, agricoltori e rappresentanti del Baluchistan Ruler Support Program (BRSP). Giuseppe Cavallo ha effettuato una dimostrazione pratica delle moderne SOP per la conduzione dei vivai, evidenziando la necessità di dotarsi di un sistema di standardizzazione e certificazione.
A tutti gli agricoltori, tecnici e operatori del settore sono stati consegnati gli attestati di partecipazione insieme a delle brochure divulgative sull'olivo e sulle buone pratiche agricole (GAP) per questa coltura, in lingua inglese e urdu. Al termine delle due giornate, Costantino Parma e Giuseppe Cavallo hanno piantato degli astoni di olivo per lanciare un messaggio positivo per la promozione di questa coltura.
Attraverso queste attività di formazione, il progetto OliveCulture intende raggiungere le aree remote e a rischio del Pakistan per promuovere le moderne pratiche vivaistiche e i sistemi di standardizzazione e certificazione della coltura dell'olivo. Le sessioni teoriche e pratiche tenute dagli esperti del CIHEAM Bari hanno ottenuto un'ampia adesione e suscitato un grande interesse degli agricoltori e dei tecnici locali. La sensibilizzazione all'utilizzo delle buone pratiche agricole per l'olivo favorirà il miglioramento della produttività e della qualità della coltura in tutto il Paese.