Bari, 20 February 2023 - A path towards the development of training and research projects and programmes focused on the most precious and vital resource is now launched in Puglia. As early as March 2023, a mini-master's degree is set to be jointly delivered by the Water Academy, the centre of excellence for culture and training of Acquedotto Pugliese (AQP).
An MoU was signed today at Palazzo dell'Acqua in Bari by Acquedotto Pugliese, the Department of Civil, Environmental, Land, Building and Chemical Engineering of Politecnico di Bari (DICATECh), CIHEAM Bari (the Italian Institute of the International Centre for Advanced Mediterranean Agronomic Studies), the Water Research Institute (IRSA-CNR), and the Union of Mediterranean Universities (UNIMED).
The signatories pledged to cooperate on training, research and development activities building on their different and yet complementary expertise. AQP, CIHEAM Bari, UNIMED, IRSA-CNR and DICATECh will implement joint initiatives, also involving companies and public bodies. An exchange of students, lecturers and researchers for study and research visits is included in the agreement as part of institutional training activities. The partnership will allow working side by side in Master of Science programmes, in scientific publications and sharing of scientific information and documents. Moreover, the MoU stipulates that signatories' facilities be made available for joint research and training programmes, events, scientific and outreach meetings, workshops and seminars, to be held in cooperation with other Italian and foreign institutions.
'This is a landmark agreement, which initiates an innovative high-calibre international project, bringing together Europe and the Mediterranean, academia and research, with the largest water utility in Europe - says Francesca Portincasa, Director General of Acquedotto Pugliese. The agreement will come into effect in early March, with the launch of a mini-master's programme that will kick-off the collaboration of our Water Academy '.
'Water is an increasingly emerging issue and engaging in cooperation with leading institutions, is crucial for us - emphasises Professor Leonardo Damiani from DICATECh, Politecnico di Bari. Incidentally, our department recently submitted a project that aims to establish a hub in Puglia to promote cooperation, training and research on environmental issues. Therefore, a Water School is an important step forward'.
'IRSA-CNR Director Simona Rossetti pointed out that 'a sound water resource management requires 'adequate 'governance' of the area, clear regulations and efficient technical services. This is only possible with the support of scientific research that provides knowledge to aid decision and law making. Technical and scientific training of water industry professionals also plays a key role to increase an understanding of the cause-and-effect interplay of human actions. Extending training and up-skilling also to professionals within the international water sector will help attain the UN Strategic Development Goals in those countries where their achievement is more challenging. Therefore, the CNR Water Research Institute has warmly welcomed the initiative launched by AQP'.
Attending the meeting with CIHEAM Bari Director Maurizio Raeli, the Deputy Director Nicola Lamaddalena underlined that 'this initiative has the potential to face real needs of two different sectors: drinking water and irrigation. Both are fundamental and strategic. We cannot overemphasise the current transformation of agriculture and agrifood industry, with water reuse and water saving taking centre stage'.
'This MoU is meant to create synergy between the industrial and knowledge dimension - concluded Marcello Scalisi, Director of UNIMED - in a perfect matching. This is the best and most concrete way to foster mutual exchange and transfer of expertise in a strategic sector such as water'.
The Italian Agency for Development Cooperation (AICS) will sponsor the first event due to take place in March.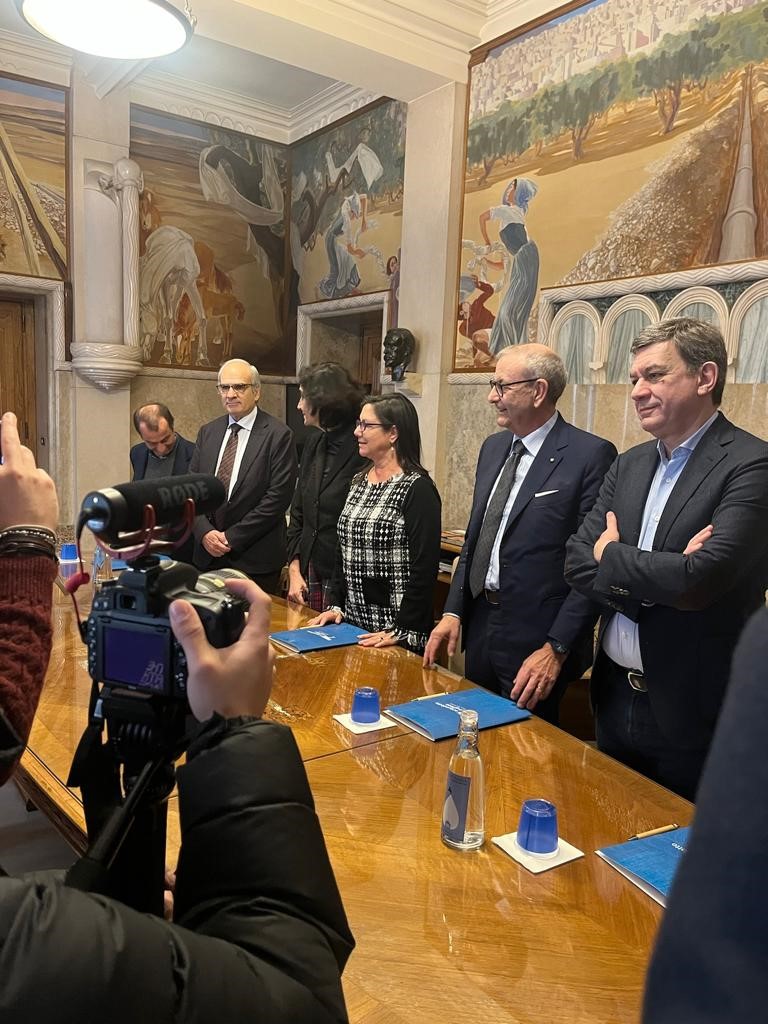 ---

Al lavoro verso una casa della formazione per l'acqua internazionale
Firmato l'accordo tra AQP, CIHEAM Bari, UNIMED, IRSA-CNR e DICATECh per sviluppare progetti di formazione, ricerca e cooperazione sul presente e sul futuro dell'acqua
Bari, 20 febbraio 2023 – Prende vita in Puglia un percorso per lo sviluppo di progetti e programmi di formazione e ricerca orientati sul bene più prezioso e vitale. Già nel mese di marzo 2023 è previsto l'avvio di un mini-master in collaborazione con la Water Academy, il centro di eccellenza di cultura e formazione di Acquedotto Pugliese (AQP).
Il patto è stato firmato oggi nel Palazzo dell'Acqua a Bari da Acquedotto Pugliese, Dipartimento di Ingegneria Civile, Ambientale, del Territorio, Edile e di Chimica del Politecnico di Bari (DICATECh), CIHEAM Bari (sede italiana del Centro Internazionale di Alti Studi Agronomici Mediterranei), Istituto di Ricerca sulle Acque (IRSA-CNR), e Unione delle Università del Mediterraneo (UNIMED).
L'accordo impegna i soggetti sottoscrittori a collaborare in attività di formazione, ricerca e sviluppo nei settori diversi e complementari di ciascun firmatario. AQP, CIHEAM Bari, UNIMED, IRSA-CNR e DICATECh attiveranno iniziative congiunte, anche in collaborazione con aziende ed enti pubblici. Fa parte dell'intesa anche lo scambio di studenti, docenti e ricercatori per visite di studio e ricerca nell'ambito delle proprie attività istituzionali di formazione. La collaborazione consentirà anche di lavorare fianco a fianco nell'ambito di programmi di Master of Science, nel realizzare pubblicazioni scientifiche e scambiarsi informazioni e documenti di carattere scientifico. L'intesa prevede infine la messa a disposizione delle strutture per la conduzione di programmi di ricerca e di formazione comuni, oltre ad iniziative, eventi scientifici e di divulgazione, workshop e seminari, che saranno anche realizzati in collaborazione con altre istituzioni italiane e straniere.
"È un'intesa storica, che dà vita a un progetto innovativo, di valore e portata internazionali, coinvolgendo - sostiene la Direttrice Generale di Acquedotto Pugliese, Francesca Portincasa - Europa e Mediterraneo, il mondo accademico e della ricerca, assieme al più grande Acquedotto del continente. Il protocollo sarà attivo già a marzo, con un mini-master che mette in moto la collaborazione della nostra Water Academy".
"L'acqua è un tema emergente ed avviare una cooperazione con istituzioni importanti - aggiunge il professor Leonardo Damiani del DICATECh - Politecnico di Bari - diventa fondamentale per noi. Fra l'altro, come Dipartimento, recentemente abbiamo presentato un progetto che ha l'obiettivo di costituire un hub pugliese per la cooperazione, la formazione e la ricerca sulle questioni ambientali. La Scuola dell'Acqua, dunque, è uno step importante".
"Una corretta gestione delle risorse idriche ha necessità – sottolinea la Direttrice di IRSA-CNR Simona Rossetti - di una "governance" del territorio adeguata, normative chiare e servizi tecnici all'altezza. Tutto questo non può esistere senza il supporto della ricerca scientifica che fornisca le basi conoscitive alle decisioni ed alla attività legislativa. Un ruolo fondamentale viene svolto anche dalla formazione tecnico-scientifica degli operatori del settore, allo scopo di diffondere la comprensione delle complesse interazioni causa-effetto insite nelle azioni antropiche. L'estensione di questa attività di formazione e aggiornamento anche ad operatori internazionali permette di mettere in pratica il raggiungimento degli Strategic Development Goals, lanciati dalle Nazioni Unite, negli Stati ove tale realizzazione è oggettivamente più complessa. Per questi motivi l'Istituto di Ricerca sulle Acque del CNR ha aderito con entusiasmo all'iniziativa lanciata da AQP".
"È un'iniziativa capace di affrontare le esigenze - spiega il direttore aggiunto del CIHEAM Bari, Nicola Lamaddalena, intervenendo all'incontro con il Direttore Maurizio Raeli - di due filiere diverse: il potabile e l'irriguo. Entrambe sono basilari e strategiche. Basti pensare alle trasformazioni in atto nei settori agricolo e agroalimentare, con il tema centrale del riuso e del risparmio idrico".
"Con questo patto sinergico la dimensione industriale e quella della conoscenza – conclude Marcello Scalisi, Direttore di UNIMED - trovano una sintesi perfetta. È il modo migliore e più concreto per favorire un mutuo scambio e trasferimento di competenze in un settore strategico come quello dell'acqua".
L'AICS (Agenzia italiana per la cooperazione allo sviluppo) ha concesso il patrocinio per il primo evento previsto a marzo.
*********
Link intervista Direttrice Generale Francesca Portincasa di AQP
https://drive.google.com/file/d/177OO7C_3wlcUJSwh7wXZ19xttJlkL5Q7/view?usp=share_link
Link intervista Prof Leonardo Damiani del DICATECh
https://drive.google.com/file/d/1nxSXRpSkP5wb_qlhOkyzLD8L7FyFAm6p/view?usp=share_link
Link intervista D.ssa Simona Rossetti di IRSA-CNR
https://drive.google.com/file/d/1mwP505WCERBHcDMRyMGT1QUEHB42CxWO/view?usp=share_link
Link intervista Direttore aggiunto ing. Nicola Lamaddalena del CIHEAM Bari
https://drive.google.com/file/d/1I_m3yIvvhYiOescW60Xq3L57V5Zpg_ep/view?usp=share_link
Link intervista Direttore Maurizio Raeli del CIHEAM Bari
https://drive.google.com/file/d/1dLAzqiVUqkqnSpABPb8fqSnlIfYtO_0K/view?usp=share_link
Link intervista Direttore Marcello Scalisi di UNIMED
https://drive.google.com/file/d/1_782DCjnYgSBPf-fanc0kX-PUeMzfc1Q/view?usp=share_link
Link immagini di copertura
https://drive.google.com/file/d/1iujzCkEPsmMKk3Z7ghfzisIqq2FYoPug/view?usp=share_link
Link fotografie
https://drive.google.com/drive/folders/12Xc-xO9U2LDVEeFoaBfZwfj6AxbqLRX4?usp=share_link