The Master Programme: One Academic Year (60 ECTS)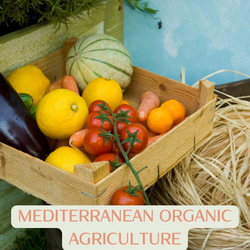 The Master Programme: One Academic Year (60 ECTS)
The Master programme provides a one academic year curriculum the main objective of which is to direct students towards professional and academic careers thereby promoting the development of organic agriculture, with an emphasis on Mediterranean contexts.
The programme proposes a holistic view of the organic sector development presenting theoretical and methodological approaches to sustain transition to organic agriculture through agroecological principles, and with a perspective of sustainable food systems development. The course provides deep insights into organic farming and food regulatory framework. Special emphasis is given to the range of on-farm technologies and practices to improve soil health and fertility and manage pests and diseases. Economic and marketing issues are also presented leading students through an understanding of food value chains sustainability.
At the end of the course students will have the following skills and competencies:
Understand the importance of sustainable production and advocate for ecologically sound solutions at different levels;
Know the organic legislative and policy frameworks and be able to drive farms to a transition towards organic farming and agroecological principles;
Know how to produce safe, high quality and sustainable organic food;
Understand economic and market issues being able to analyse and design organic food value chains;
Facilitate multi-actors networking for the organic sector development;
Have expertise to assess agricultural, environmental, and socio-economic opportunities and constraints of organic agriculture in different Mediterranean areas.
For further details, please download the Information sheet and the Course programme below.
The Master of Science Programme: Two Academic Years (120 ECTS)
The Master of Science Programme: Two Academic Years (120 ECTS)
During the second year, students who have successfully completed the first year and met all the prerequisites set by the Institute, draft a thesis based on experimental research work.
The scientific results derived from research work are usually announced on the occasion of national and international conferences and/or published in scientific journals.
Topics generally available for Master of Science theses in organic agriculture are:
Evaluating the impact of agricultural innovation on cropping systems and soil fertility management;
Innovative biocontrol measures;
Preventive and curative strategies to reduce the impact of new and emerging pests in Mediterranean climates;
Quality valorisation of organic food through novel food products;
Sustainability of agricultural and natural systems;
Economic and market research;
Socio-economic effects and impacts of support policies.
Beneficiaries and Scholarships
CIHEAM Bari grants full or partial scholarships to candidates according to a ranking list. Priority is given to students coming from non-EU CIHEAM Member countries and other Mediterranean, Balkan and Middle Eastern Countries. Students from non-priority countries who are interested in CIHEAM Bari courses are anyhow allowed to participate at their own expense or through other sources of financing (governments or other bodies).
In particular, courses are addressed to:
graduate students;
young researchers;
extension agents;
civil servants;
A given number of residential full scholarships is granted every year to candidates coming from non-EU CIHEAM Member countries and other Mediterranean, Balkan and Middle Eastern countries whose applications rank first in the selection process. Full scholarship covers: registration fees (200€/year), tuition fees (500€/month), travel expenses from and to the country of origin, board and lodging in the students' residence, insurance and medical assistance, pocket money (170€/month).
Other candidates are admitted with a partial scholarship covering tuition fees and accommodation as long as rooms in the campus residence are available.
Candidates can apply for scholarships in the application form.
Conditions for admission
Access is open to candidates of any nationality who have the academic level qualifying them to carry out postgraduate studies in their country of origin.
Candidates' profile
Courses are addressed to new graduate students and young professionals with a university background related to agronomic, irrigation, agricultural engineering and socio-economic issues.
Conditions to be admitted to the Master Programmes are:
holding a University Degree awarding at least 180 ECTS;
having completed four out of five years of University studies, upon agreement between the sending University and CIHEAM Bari (the year attended at CIHEAM Bari is recognized as final year in order to graduate at the University of origin).
Applicants are invited to follow the online application procedures by clicking on the following link