The Master Programme: One Academic Year (60 ECTS)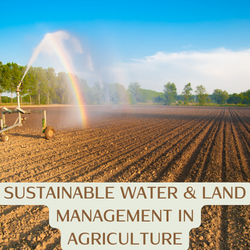 The Master aims at preparing a new generation towards professional and academic careers, and to enable their effective contribution to the sustainable management of water and land resources in agriculture, and to the socio-economic development thereof, in view of important challenges that include water scarcity, land degradation, demographic pressures, and climate change. A major focus is on the increase of cross-sectoral coherence between Sustainable Development Goals, and the application of modern technologies and tools that integrate agronomic, engineering, environmental and socio-economic aspects of water and land management in agriculture.
Students follow theoretical and practical sessions that aim at framing improved management of water and land resources, at increasing food production using less water, and reversing land degradation. The programme presents the basic principles, and the latest scientific and technological achievements in irrigation systems at farm and large-scale level, taking into consideration the application of innovative "green" management solutions.
At the end of the programme, students will acquire the skills to apply integrated approaches of water and land management for sustainable agriculture and food systems, under significant challenges of climate change, resource scarcity, societal changes and food insecurity. Specifically, they will acquire the following competences:
management of water resources in agriculture with a view to land conservation and water use efficiency increase in Mediterranean agroecosystems,
management of a range of alternative water resources including saline and reclaimed water, and water harvesting systems for irrigation purposes,
planning and evaluation of irrigation projects, at farm and large-scale level to optimize water/land/nutrient use, considering societal/institutional aspects and economic criteria,
knowledge of the latest technologies and tools for a sustainable management of water resources at different scales and in different agroecosystems.
For further details, please download the Information sheet and the Course programme below.
The Master of Science Programme: Two Academic Years (120 ECTS)
Access to the second year is only guaranteed to students who have successfully completed the first year and have met all the prerequisites set by the Institute.
The 2nd year is based on the "problem solving" approach and research themes are derived from specific and relevant problems for which a practical technical solution is sought. Applied research themes and experimental works are developed. In a rigorous scientific framework, works are targeted to innovatory solutions that are feasible in the integrated land and water system they are designed for.
The main research topics for MSc theses are:
Eco-Efficiency analysis of irrigation;
Impact of treated wastewater use on the cropping pattern, irrigation management and hydraulic performance of irrigation network;
Generation of the discharge hydrograph in large scale irrigation systems;
Modernization of an on-demand pressurized irrigation system: Assessment of the flexibility impact on the cost effectiveness;
Formulation of a physically-based pedotransfer function to determine soil hydraulic parameters for an agro-hydrological model;
Energy and Hydraulic Performance-Based Management of Large-Scale Pressurized Irrigation Systems;
Actual soil erosion and sediment yield estimate in the Candelaro watershed of Apulia region in Italy using the G2 model;
Characterization, modeling and participatory simulations of water use and development of strategies for rural households and rural territories;
The impact of conversion from surface irrigation to drip irrigation on groundwater exploitation;
Combination of new sensor technologies, satellite navigation and positioning technology to manage irrigation, fertilisation and application of automated optical sensing to detect diseases
Beneficiaries and Scholarships
CIHEAM Bari grants full or partial scholarships to candidates according to a ranking list. Priority is given to students coming from non-EU CIHEAM Member countries and other Mediterranean, Balkan and Middle Eastern Countries. Students from non-priority countries who are interested in CIHEAM Bari courses are anyhow allowed to participate at their own expense or through other sources of financing (governments or other bodies).
In particular, courses are addressed to:
graduate students;
young researchers;
extension agents;
civil servants;
A given number of residential full scholarships is granted every year to candidates coming from non-EU CIHEAM Member countries and other Mediterranean, Balkan and Middle Eastern countries whose applications rank first in the selection process. Full scholarship covers: registration fees (200€/year), tuition fees (500€/month), travel expenses from and to the country of origin, board and lodging in the students' residence, insurance and medical assistance, pocket money (170€/month).
Other candidates are admitted with a partial scholarship covering tuition fees and accommodation as long as rooms in the campus residence are available.
Candidates can apply for scholarships in the application form.
Conditions for admission
Access is open to candidates of any nationality who have the academic level qualifying them to carry out postgraduate studies in their country of origin.
Candidates' profile
Courses are addressed to new graduate students and young professionals with a university background related to agronomic, irrigation, agricultural engineering and socio-economic issues.
Conditions to be admitted to the Master Programmes are:
holding a University Degree awarding at least 180 ECTS;
having completed four out of five years of University studies, upon agreement between the sending University and CIHEAM Bari (the year attended at CIHEAM Bari is recognized as final year in order to graduate at the University of origin).
Applicants are invited to follow the online application procedures by clicking on the following link